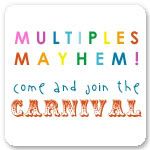 Hurrah!
This is the second instalment of said carnival and I'm impressed beyond words that Heather has managed to pull the entries together and get it published -- as a similar effort on my part on our
mental health blog
has stalled.
Topics covered in this carnival include potty training, vegetable aversion, the naughty step and first year essentials.
If you've an idea for another post to add, please do add a link to Heather's post and if you would be interested in hosting a future carnival then please shout too!